Start Cross Stitching With a Kit
By Joanne Jones
Has this ever happened to you? You have a friend who is into a craft, like cross stitching, and then they show you how to do it. The craft appeals to you, so you decide to start a cross stitch project to see how well you like doing it yourself. But when you go to your local craft store and find out that to buy all the different supplies, it is quite expensive. Instead of spending a lot of money, or giving up on the craft all together, you have the option of buying a kit.
Kits are great because they include everything you need. Some kits only include the pattern, needle, floss, fabric and easy to understand instructions. But there are kits out there that also include a frame. There are a variety of kits available in many different sizes and cost. Some kits have a small design to cross stitch; these are great because they can be done in a weekend.
Also, if you are just getting into cross stitching, there are many benefits of starting with a kit.
1. First, they come with all the supplies you need. This will save you time, since you won't have to gather and buy all the supplies before you start. Just pick a kit and start cross stitching.
2. As well, if you have never cross stitched before, you might not be sure how much you are going to like it. So, buy a kit with a small design as your first project. This way, if you don't like it, then at least you haven't spent a lot of money on supplies you will never use again.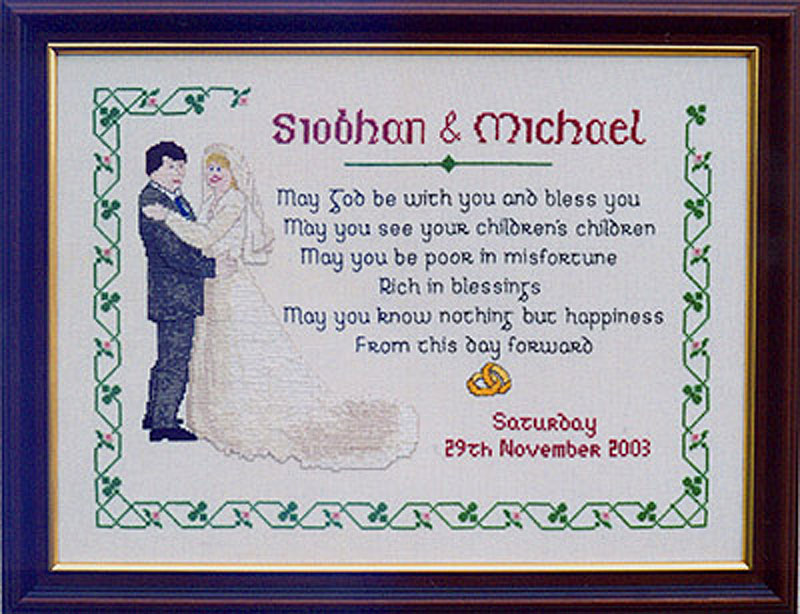 3. Another benefit of kits is that they are easy to store because they don't take up a lot of room. Most kits are the size of a legal envelope and are no thicker than half an inch. Kits that include baby blankets or quilts tend to be a bit thicker, but are still easy to store away. Once you move away from kits and you start buying the different supplies, especially the floss and fabric, you will need to come up with an organization system that not only makes it easy to find all your supplies, but also protects them from environmental factors like humidity and sunlight.
4. Finally, kits make wonderful gifts - whether you complete the kit yourself and give the finished project away or whether you give the kit as the gift. The most common gift to complete is for a baby or wedding announcement because you get to personalize it.